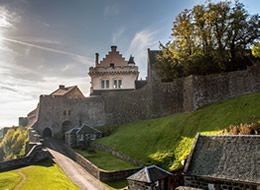 Minuteman Press in Falkirk may not have been around as long as the impressive Stirling Castle which goes back to the early 12th century but we have been producing impressive print for nigh on 20 years!
We've printed images of Stirling Castle on numerous occasions for numerous clients, sometimes onto business cards or letterheads and at other times onto flyers or even banners.
The Wallace monument has also featured in many items we at Minuteman Press Falkirk have been asked to print, including from some renowned local artists who've sat by the River Forth, canvas on easel and paint brush and palette in hand to capture it in all its majesty.
At Minuteman Press Falkirk, we don't produce paintings ourselves, but we can produce print of almost any kind onto almost anything - paper, card, vinyl, PVC, tee shirts, mugs, coasters, key rings and..... well, you get the picture!
Get in touch with us today and we can discuss how we can help you with your print project and put YOU in the picture!
High-quality products. Fast service. Competitive pricing. Stirling based, local business support.
<p>We are a local, small, business, with the global support to make sure we are competitively priced and can satisfy all your design, printing and marketing needs.</p>