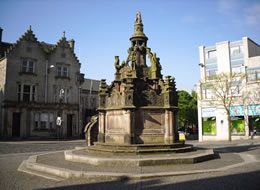 The main attraction in Linlithgow is undoubtedly Linlithgow Palace. The building of the palace commenced in the year 1302 and rebuilt in 1424 after being destroyed by fire.
We recently took an enquiry from a Linlithgow based business for an extremely urgent business card job. It would have been around 13:02, or just after 1pm. By the time 14:24 (2:24pm) arrived, so had our customer and we'd designed and printed 100 single sided business cards for him! We can't always promise to be as quick as that but we'll never keep you waiting an eternity to get your print project ready to collect or perhaps even delivered to your door.
Some of our Linlithgow based customers include Paul Rolfe Estates, Orme Business & Property Law, Hunters of Linlithgow and Easygo Electric Bikes. We'd love you to be our next Linlithgow based customer, whether you're a large company or a sole trader or you're just needing some party invitations.
Minuteman Press Falkirk can design and print almost anything you can put a name, logo or image onto. From card and paper to porcelain and almost everything in between, in quantities large and small.
Minuteman Press Falkirk - we design, print & promote Linlithgow!