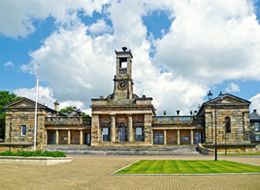 Bathgate has a few famous ex-residents, for instance Bernard Gallacher, the golfer or Paul di  Resta and his cousins Dario and Marino Franchitti, all racing drivers.  But did you know that Dr Who also comes from Bathgate? Well, in all honesty it's one of the actors who've played the doctor who does - David Tennant. The doctor is famed for his ability to time travel so I guess he could move even quicker than di Resta or the Franchitti brothers but whether he is a accurate as a Bernard Gallacher  wedge to the pin is a matter of opinion!
Ordering print from Minuteman Press Falkirk, such as business cards, letterheads, flyers or brochures etc for your Bathgate based business or invitations, raffle tickets or greetings cards for your personal use, could be done so quickly it would almost seem like you'd gone back in time yourself! And we promise accuracy at least as good as Bernard's was in his prime.
Try us next time you need print in a hurry and see what we can do for you! If, however, you don't need your printing done in Dr Who style time travel speed, then giving us the luxury of more time to produce your work often means that you can save a bit on cost, either way you win.